Aluminum Sheet Product
Product Detail
Product Tags
Product General 
As a new type exterior wall decoration material,Aluminum Sheet has various excellent characteristics:
Aboundant colors can meet modern building' s requirements for colors.With PVDF coating,the color is stable without fading,.Good Uv-proof and anti-aging ability make it stand long-term damage from uv,Wind,acid rain and waste gas.Besides,PVDF coating is difficult for contamination matters to adhere to,so it can keep clean for long time and easy to maintain.Light Self-weight,high strength,high anti-windpressure ability.With simple installation structure and it can be designed to various shape such as curving,multi-folding.The decoration effect is very good.
Product Coating structure: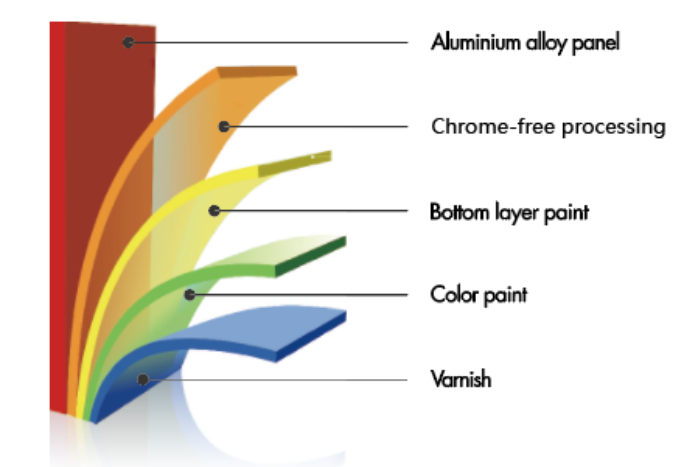 Product Features
1,Light weight, good rigidity, high intensity.3.0mm thick aluminum plate per square with the weight of 8kg,the tensile strength of i0o-280n/mm2.
2,Good durability and corrosion resistance.Using kynar-500,hylur50o as the base of PVDF paint, can be used for 25 years without fading.
3,Good technology.After the first process,then spray painting . The aluminum plate can be processed into plane, arc,spherical surface and other complex geometrical shape.
4,Uniform coating, multi-colors.Advanced electrostatic spraying technology makes the paint and aluminum plate with a uniform, a variety of colors, a large selection of space.
5,Not easy to stain, easy to clean and maintenance.The non adhesive feature of the PVDF paint film makes it difficult to attached pollutants,and has good cleaning performance.
6, Convenient and quick installation and construction.The Aluminum plate is molded in the factory, no need cut at the construction site, fixed on the frame is ok.
7,Can be recycled, favorable environmental protection.Aluminum plate can be recycled 100%,with high recovery value,unlike glass, stone,ceramic,ACP and other decorative materials,it has high recycling salvage value.
Excellent decorative performance:
According to user needs, create a unique surface texture effects, such as stone,wood, etc.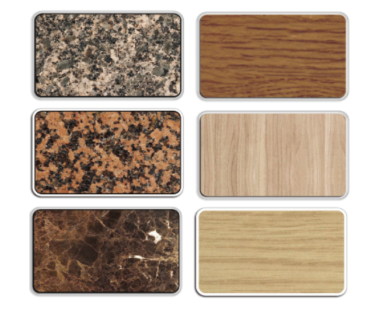 Good processing properties:

Product Application:
Aluminum Sheet curtain wall are suitable for all kinds of building decoration. Such as interior and exterior walls, the lobby facade, column decoration, elevated corridor, pedestrian bridge, elevator edge, balcony decoration, advertising sign, indoor alien ceiling. Building exterior walls, beams column,balcony, canopy, airport, hospital, conference hall opera house,stadium,reception hall etc high-rise buildings.
---
Previous:
Aluminum-plastic Composite Panel
---