Aluminum Corrugated Composite Panel
Product Detail
Product Tags
Product General:
Aluminum Corrugated Composite Panel is also called aluminum corrugated composite panel,using AL3003H16-H18 aluminum alloy material,with face aluminum thickness 0.4-1.Omm, bottom aluminum thickness 0.25-0.5mm,core thickness 0.15-0.3mm.It is produced on advanced automatic production equipment under ERPsystem management.Water wave shape is made by cold pressing on the same production line,using thermosetting dual structure resin adhere to face and bottom aluminum in arc shape,increase adhesive strength,possess metal panels excellent adhesion.make sure adhesive ability stable and share same life with building.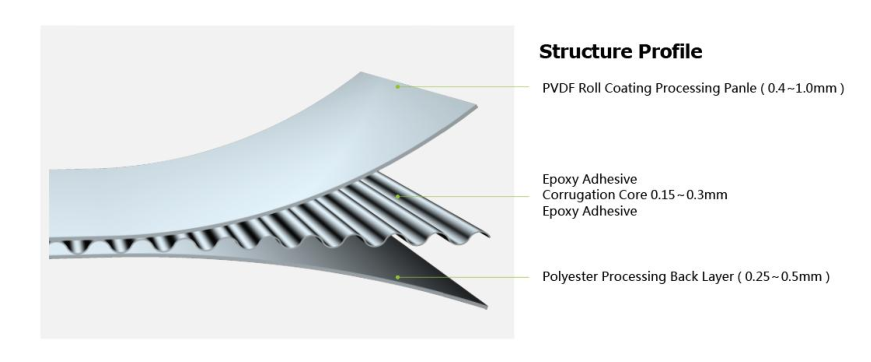 Aluminum Corrugated Composite Panel second-time processing:
> cutting
- Aluminum Corrugated Composite Panel cutting should use special cutting machine,cut according to designed size after fix on a flat platform.
- The cutting edge should be very fine and clean.
> Grooving
The important procedure in processing Aluminum Corrugated Composite Panel is
grooving 0.15-0.2mm on bottom aluminum.Processing angle recommend to make
bottom aluminum and corrugated core together into 91 degree angle.
1)Processing saw is the same as central picture below.Use saw with R5.5 and angle 91
degree.
2)For massive grooving,use grooving saw in picture and mechenical moving
equipment to improve production efficiency.
Grooving: according to drawing design,returning edge methods should cut
according to left picture.
> Molding
- Shaping after grooving,fix the product on a certain flat platform,bend 90 degree angle with bending clamp according to design chart.
-The corner part of bending must keep straight(be noted that to prevent from coating breaking at the corner part,the work must be operated above 10°C.
- Bending height of at least 20 mm above the edge of design, this Angle part with silica gel can achieve better waterproof effect and other properties.)
>Roll Gircular
- Product processing arc degrees,use ordinary three-roller plate.
-Processing arc products keep 100 mm begin as a benchmark.
- When rolling, cannot stop.
- Should pay attention to the direction, scroll wheel arc and core board in the vertical direction.
>Notice For Grooving
A)Dual bending and cutting profile inconsistant
-Removing 0.15-o.2mm from exterior sheet during grooving.
-Bending clamp does not insert flange deep enough.suggest to insert clamp into flange at maximum.
- Grooving need experienced operator,sugget to use professional technician
- The pressure imbalance of grooving machine cause bending part uneven,suggest to keep mechanical processing pressure stable.
B)core material peel off from face panel
-When saw cause peeling off,please inspect saw cutting before processing.
-When notching,do not cross grooving central line,otherwise the effect after bending will not meet design requirement.

---
Previous:
Aluminum Sheet Product
---